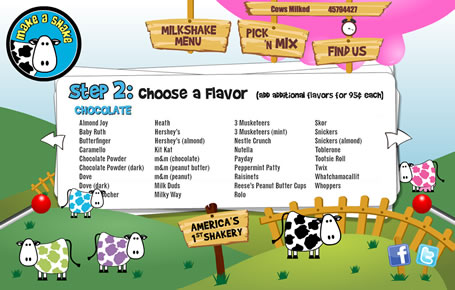 Flash Websites
Digital Visual has extensive experience cresting flash presentations for use on the web.
Try pulling the levers on the left and right
Try clicking a cow's head
Try resizing the browser window
Try choosing a milkshake
Click on the image to the left to see an example of our flash design.
Bespoke Actionscript Development
Digital Visual can work with you to create beautiful interactive presentations and bespoke video players.
During the 2000's Digital Visual build over 30 touch screen interactive presentations and high quality CD Roms for Museums across the South West as part of one of the UKs leading Museum interactive specialist company. Flash technology has now been replaced in many respects, although it is still heavily used in the delivery of video online, with custom video players and interactive games being the major uses.
Many of the requirements online such as animation and interactivity can now be achieved using javascript and HTML5 which is accessible on all devices including iPhones and iPads. One of the big limitations of using flash is that these platforms are restricted.